OVERVIEW
Below are some commonly asked questions on the DTEN ON 55 device. If you are new to the ON 55 device, the answers to our FAQ may help.
What is the DTEN ON?
The DTEN ON 55 is an All-in-One Zoom Rooms appliance that includes Zoom Rooms' limited features of Meeting, Join Meetings, and Whiteboarding.
Does the DTEN ON come in a 75" screen?
Currently, the ON has a 55" screen
Does the DTEN ON have a Windows OS or an Android OS?
Where can I update my DTEN ON?
Orbit portal: Goto Device management | click on Device ID | select Update arrow (Figure 1).

Zoom portal: Log into zoom.us | Account | Room Management | Zoom Rooms Devices |

Device Dashboard menu | Help.


Can I change the preferred Zoom Rooms language setting?
Yes. Go to the Dashboard Menu Settings | General | Zoom Rooms Language and select the arrow next to the language listed (Figure 2).

Figure 2. Zoom Room Language option in Dashboard Menu



Can you control the camera by using digital PTZ?
Yes, Manual PTZ (ePTZ) feature is available.

Auto-framing feature is also available. Click on the More option (not shown) to access the Camera Control menu, then select the

Auto-Framing

option to enable this feature (Figure 3).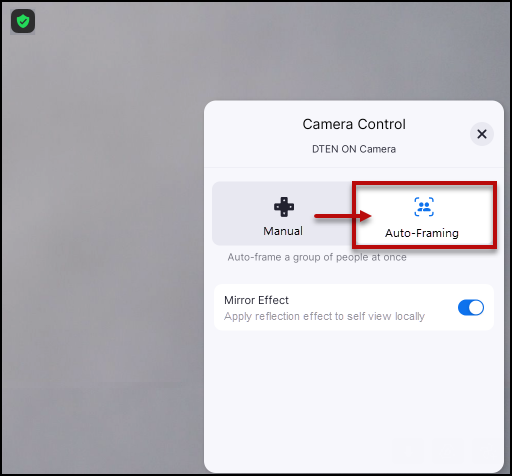 Figure 3. Auto-Framing option in Camera Control menu
Menu Dashboard
Where can I access the Dashboard/menu?
Pressing the menu button at the back right-hand side of the device, second button from the bottom
Can you connect bluetooth headphones to the ON?
Can you connect it to WiFi that requires a captive portal?
Zoom
Is Zoom Virtual Background supported on the DTEN ON?
Can I change the preferred Zoom Rooms language?
Yes, you can change the Zoom rooms language on the menu dashboard. Available options: Spanish, German, Japanese, French
Can I use other video conferencing applications other than Zoom?
No. The DTEN ON is a Zoom Rooms Appliance that only works with Zoom Rooms.
How many points of touch are present on the DTEN ON?
Does it have a network proxy setting?
Yes, available in firmware 1.3.4 and above.
Can I use the QR Scan to activate the DTEN ON?
Yes. You can use your phone to scan the QR code (Figure 4, left), or enter it as follows:
a. Click on the DTEN Terms of Use and Private Policy Agreement links and take a moment to
read the information.
b.

Click the

checkbox confirming you have read and accept the DTEN Terms of Use and Privacy
Policy agreement, and the I Agree button.
c. Click on the DTEN.COM/ACTIVATE link and enter the 4-digit activation code displayed on your
device (Figure 4, right.



Figure 4. Orbit Activation with Scan QR Code option
Is there any remote administration available to reboot or restart the Zoom Room service running on the device?
You can restart the system via the Zoom Portal or Orbit.
Can you connect USB devices to the DTEN ON?
No. There is no USB port.
What types of inputs and outputs comes with the DTEN ON?
HDMI In x 1

3.5mm Audio Out Jack x 1

Ethernet LAN (RJ45) x 1
Can I connect a second monitor to the DTEN ON?
No. The DTEN ON does not support this function.
Can other Android applications be on the DTEN ON?
No. The DTEN ON is designed as a Zoom Rooms Appliance.
Are there additional audio options available with the DTEN ON?
If you have additional questions, please contact DTEN Support at support@dten.com for assistance.