Method 1
Plugin the Windows-layout wired keyboard onto the PC's blue USB port (the rear, top-left port).

Press

Ctrl + Alt + Delete

and you will see the following screen and you will be brought to the Windows lock screen.

​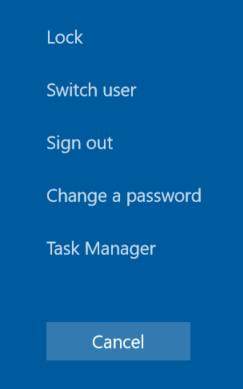 Click on "Sign Out" and select "Zoom Admin"
Note: Zoom Rooms will start one more time. To exit Zoom Rooms, tap on the screen and press on "Exit" on the bottom left.
The password the account is:
ZoomAdmin (access to the PC) - Zoom1234
Method 2
Touch the D7 display and click on the Settings button
In the Settings view, select the General tab on the left side
Select the Windows Settings option to exit D7 into Windows Interface

Select "Zoom Admin" → enter Zoom1234 to enter the Window Interface
To go back into Zoom Rooms from the D7 Windows environment, please use one of the following options:
In Windows, tap the Windows icon, then tap the users icon to sign out

This step takes you into the Zoom Admin window, from here tap the Zoom icon in the lower corner and then enter this Zoom Room password:

Zoom123

In Windows, tap the Windows icon, tap the power button to restart the D7 system.
Press the D7 menu button on the back of the system to bring up the DTEN dashboard, then tap the restart icon
Steps 2 & 3 will automatically restart the D7 system in Zoom Rooms.
If you have additional questions, please contact DTEN Support at support@dten.com for assistance.