If you have more than one DTEN device in your network, you might find yourself wanting to rename them for better management.
You can do this as follows:
Please plug in the Windows-layout wired keyboard onto the PC's blue USB port (the rear, top-left port).

Press

Ctrl + Alt + Delete

and you will see the following screen and you will be brought to the Windows lock screen.

​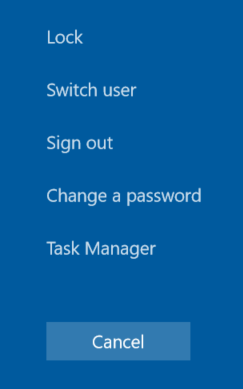 Please click on "Sign Out" and select "Zoom Admin"
Please note: Zoom Rooms will start one more time. To exit Zoom Rooms, tap on the screen and press on "Exit" on the bottom left.
The passwords for the account is:
ZoomAdmin (access to the PC) - Zoom1234
Once you are in Windows:
Go to Settings > System > About and select the Rename PC button in the right column under PC. Then type the name you want to rename the computer.